This post is all about Original vs Fake Samsung Charger. Actually what does a Samsung charger look like? Samsung is a South Korean multinational company which is famous for electronic gadgets like Smartphone, Laptop, TV, Fridge, Washing machine and many more.
According to a report, it is the No. 1 Smartphone Brand in the world for selling. After launching a product from a famous brand, some manufacturers try to duplicate and sell it on the market.
In this way, you buy the product with your desired brand which is fake. These types of products don't go long and you lose your money. They may also harm your original product.
Fake Samsung charger also looks like the original one. You can't differentiate which one is original and which one is fake. The charger works like a genuine one, but it may damage your smartphone.
But, many smartphone users experience that utilizing third-party chargers and USB cable does not have any danger, but it's been proven by time to time that using duplicate electronic products, like chargers, batteries, USB cables, and other equipment may be dangerous and might harm your smartphone.
So, be aware of duplicate products. Today, I'll give you some points to differentiate original vs fake Samsung charger.
Why Should You Use Original Samsung Charger?
Working with a fake charger for any smartphone may have negative effects, such as overheating and poor charging speed. How to spot a fake Samsung charger? If you recognize your charger as fake, you will get a genuine one from a respectable Samsung supplier. Let's check Samsung adapter original vs fake.
According to Samsung, It is recommended that you use only Samsung genuine or approved accessories that have been specifically designed for use in Samsung products.
The use of incompatible batteries, cables, and chargers may not be safe to use and could cause damage to the device or could provide external damage. Use of unapproved battery may result in the battery expanding or igniting (i.e. catching fire)
Samsung Original vs Fake Charger
It is important to know the difference between Samsung original charger vs fake. This will help you avoid potentially dangerous counterfeit chargers that can damage your phone, battery, or other electronic devices.
1. Logo
First look at the logo. The thickness of the "A" letter in the fake Samsung charger is more than the original charger. SAMSUNG logo in the genuine charger has the same thickness of all letters.
2. Printed Text
If there is an "A+" or "Made in China" printed back side of the charger, then this is a duplicate product.
3. Pins Size
Look closely, you'll see a difference in between the pins. The base of the duplicate Samsung charger is the same from top to bottom. But, the white portion of the pin of the original Samsung charger is thicker, than the upper part.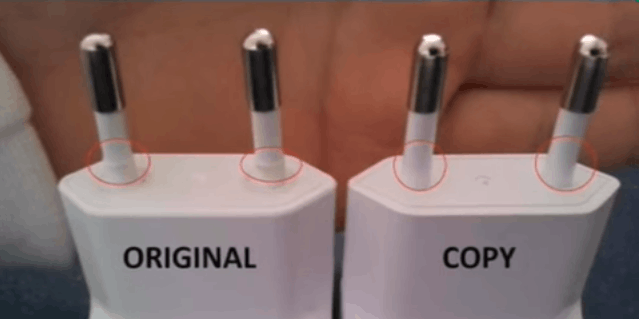 4. USB Port Size
In some cases, the charger is original, but the USB charging cable is fake. You can identify using the port size and color. The port color of the duplicate one is darker than the original one, and also it is a little bit longer.
5. Build Quality
Samsung is a reputed brand and always use the good quality material on its products. If you notice the build quality solid, and strong, then this is an original one. Fake Samsung chargers are made with cheap quality plastic.
6. Weight of the Charger
If you have both fake and original Samsung chargers, then you can easily differentiate in between them. Due to the top-quality build, the real charger should feel heavier as compared to the fake one.
7. Heating Issue
After charging 2-3 times with the fake Samsung charger, it becomes hotter than usual.
Original vs Fake Samsung Fast Charger
In this section, we will compare the original Samsung fast charger with a fake one. We will look at the differences between Samsung 25w Charger Original vs Fake and what they offer to their users. If you are searching for the Samsung 45w charger original vs fake, then you can also prefer this guide.
These are the main difference between the original vs fake Samsung chargers. If you have experienced any difference in between a real and a fake charger, then do share with us. We'll include it in the list to make this guide more authentic.