Do you want to Download Office 365 ISO? Due to some problems, yesterday I installed a clean version of Windows. The first software I need as a blogger is Microsoft Office.
I have an active subscription to Office 365, but it comes with an online installation. If you have a slow Internet connection like mine, then you can't afford the online installation process. That's why I always prefer Office 365 offline installer or ISO image files.
There is no official way to get Microsoft Office 365 standalone installer. You can download Office 2016 ISO, and you'll get Office 365 as an option in that, but the file size is more than 4 GB.
If you install 365 through the online installer, it'll not be more than 2 GB. The 32-bit version is around 1.7 GB, and the 64-bit is 1.9 GB. Then why should you download the extra GBs?
How Office 365 Different from Other Office Versions?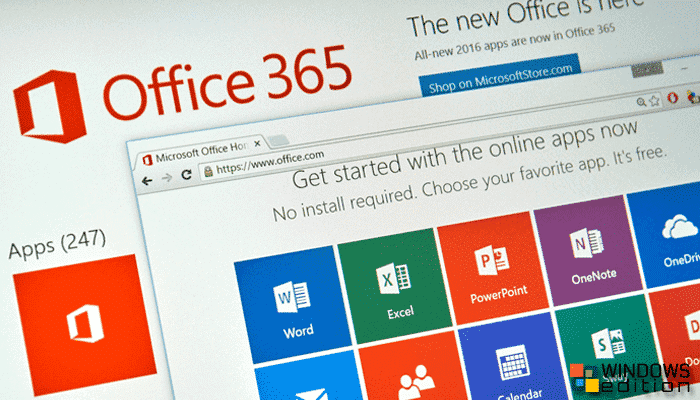 Office 365 is a subscription-based application to access Office applications (Word, Excel, PowerPoint, OneNote, Outlook, Publisher, and Access) as well as productivity services over the Internet. There are two types of plans for Home and Business users.
You can subscribe to any of these two plans on a monthly or yearly basis. Once you subscribe, you need an Internet connection to install the package and it can be used up to 5 devices for Home plans and up to 300 users for Business plans.
| | |
| --- | --- |
| Developer | Microsoft |
| Stable release | 2020 |
| Available in | 102 languages |
| Type | Software as a service contract |
| License | Trialware |
Why Download Office 365 Offline Installer?
The answer is very simple. If you have five computers and you want to install Office 365 on all of them, then it'll take at least 10GB of data, and the most important thing is the time.
If you are one of them who live under strict bandwidth limitations should look for Office 365 offline installer download.
The offline is very handy if you have purchased the Personal plan. Once you have downloaded the offline ISO or installer, you can install it as many times you want, but at most on 5 PCs. Well, without taking more time, let's come to the download process.
Download Office 365 ISO
Luckily, there is a legal way to download the Office 365 image file. All of the images are more than 4GB. But, once you have downloaded it, you can use them on any computer.
But, of course, you need a subscription plan. These image files contain both of 32-bit and 64-bit installer. You'll get these setup files inside the IMG file.
| PRODUCT | DOWNLOAD LINK |
| --- | --- |
| Microsoft Office 365 Home Premium | Download |
| Microsoft Office 365 Business | Download |
| Microsoft Office 365 Professional Plus | Download |
Choose any of the ISO/IMG image links according to your plan and enjoy the offline installation. These images are in IMG format. If you want, then you can easily convert them into ISO images. These all are official links from Microsoft, so, you don't need to worry about viruses or any malware.
Office 365 Offline Installer Download
The procedure is a little bit tricky, but I am here to help you with this. I have tested this on my Windows computer and it's working fine. If you have a fast Internet connection, then it would be better for you. So, to make that simple here I have used Google's RDP.
In order to begin the process, you need Office 2016 Deployment Tool. You can download it here.
1. Create a folder in C drive as "Office365" or you can give it another name of your choice.
2. Run Office Deployment Tool and extract the files in the created Office365 folder. There are two files in that folder; setup.exe and configuration.xml
3. Open configuration.xml in the text editor and change the like this and save it:
<Configuration>
<Add SourcePath="

C:\Office365

" OfficeClientEdition="

64

" Channel="Monthly">
<Product ID="

O365ProPlusRetail

">
<Language ID="

en-us

" />
</Product>
</Add>
<Updates Enabled="TRUE" Channel="Monthly" />
<Display Level="None" AcceptEULA="TRUE" />
<Property Name="AUTOACTIVATE" Value="1" />
</Configuration>
You can change the bolded red lines according to your preference.
SourcePath: Where the files you want to save.
OfficeClientEdition: If you need the x86 client version then change it to 32
Product ID: There are three types of products; O365HomePremRetail, O365BusinessRetail and O365ProPlusRetail
Language ID: If you need another language package
4. Once everything is done, open command prompt and run the below command to begin the downloading process.
First, you have to navigate to the created folder by typing the command,
cd c:\Office365
Then,
setup.exe /download configuration.xml
5. The download will begin, and a new subfolder "Office" will automatically be created in the C:\Office365 folder.
6. Once the file has been downloaded, run the below command to start the installation process.
setup.exe /configure configuration.xml
Can you download Office 365 offline?
Yes, you can easily download Office 365 offline easily. For that, you have to use OfficeDeployment Tool (ODT) to download and install Microsoft 365 offline.
Is Office 365 web-based only?
Yes, Office 365 is web-based only. It is a web- based system that allows you to access pools of files and information.
Does Office 365 Work Offline?
Yes. You can use office 365 offline. This software is made to work without an active Internet connection. But, in order to save the files on the cloud storage, you have to enable the Internet. Or, you can save these files on your computer.
That's it. This is the only way to download Office 365 Offline installer ISO to install on multiple PCs. If you have any doubts or issues regarding the process, then feel free to comment below. I'll try to solve all o0f your queries. If you like the tutorial, then don't forget to share with your friends.