Looking for OCR Software for Windows? All the problems aside and filling up all the documents in important papers on another side. However, who does not like to have software, I wish we had software and tools for everything. Each one of us actually hates filing up a pile of papers and documents every day.
Well, to help us and to save us from this kind of trouble here we have got the free download of OCR software that would be totally perfect for anyone.
Yes, we are talking about the OCR tools and the software that is going to help you save all the papers and documents but not as the physical copy of course, but you can save it as the soft copy though.
There are many OCR software and tools that you can use to get rid of these enormous piles of documents and papers. This kind of tool actually converts the handwritten documents and papers as scanned documents and soft files or even as editable text files too.
As you know, there are a whole lot of apps and software but only a few of them are popular and work the best. Well, to help you better I have mentioned the best and free OCR software for Windows 10 that will help you to avail the benefits of having the best documents.
What is OCR?
OCR is also called optical character recognition. This is a technique in which you can change the scanned documents to editable text. You can use these texts later for PDF or word documents.
Before OCR technology has been available, people retype hand-written papers themselves which was time-consuming. The Optical Character Recognition technique is very helpful for professionals such as teachers, doctors, and lawyers, who always keep handwritten notes and later convert them into texts for official use.
I know that you may not understand anything. Let's tell you with examples. Suppose you have a restaurant menu and you want to convert that photo to an editable pdf. You will be able to do that with the help of OCR software.
Here are a few advantages of using the OCR software.
Best OCR Software for Windows 10
So, here we have got these best free OCR software 2023 for your operating system- check out this list and know the trending OCR software and tools that are available in the market to opt for
1. OneNote
One Note is the first OCR software for Windows 10 that you have to choose for whenever it comes to saving all the documents as your soft copies though. However, Windows has actually built this Microsoft One Note which is actually built for note-taking only. You need to know that there is also an additional feature too, which mainly works for OCR alone.
Well, it is essential that you need copy and also pastes the picture within the scanned documents over the Note. Well, when you will click over then right-click over the image, and this feature is known as "Copy text from Picture" though. It would be pretty much better if you could try and wait for more time for pasting it again.
So, the final say on this particular OCR software would be the best image to word converter online that you can opt for though. It helps for effortless scanning and printed documents and filed, and it opts for very much inaccurate too.
Download: Link
2. Google Drive
Google Drive is another popular free OCR software online that would be pretty much great for extracting text from images online too. Google Drive is just the best OCR software that would be so very great for using it over converting papers and documents to the texts and prints or even to the scanned documents though.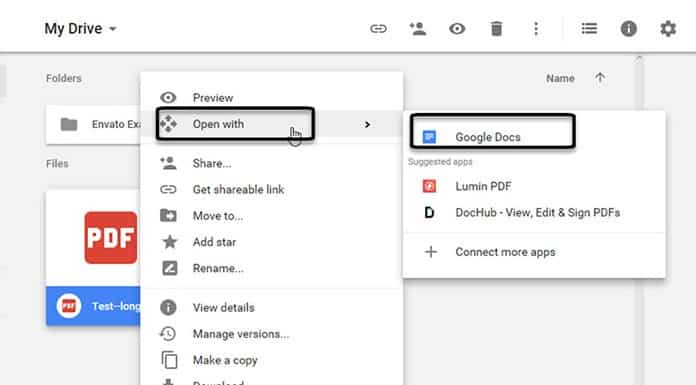 It provides the most natural and easiest way to look for the scanned documents to the editable one for sure. However, you need to know that Google Drive is very much safe as it is a known brand as well.
Also, Google Keep is just the best one that we could be opting for scanning notes and documents, though. Here is the procedure,
On Google Drive, Right-click on the desired image.
Click "Open with" and then "Google Docs"
After that, the image file will be converted to a Google Doc.
In fact, this particular Google Keep also has a feature of OCR which is perfect for any kind of business print and card printing as well. You can upload the image to Google Drive, and that's the best feature that one could get and avail within this particular OCR software too.
Download: Link
3. SimpleOCR
Simple OCR is one such best and free OCR scanning software for Windows 10, which is the best one for converting the papers to scanned documents though.
This particular OCR and document are from simple software as well. This mainly has the whole suite of management that is good for file management too.
However, it also has got file scanning and indexing as well. This is built in the software that is developed with the best feature for character identification and recognition even of the handwritten papers and documents as well.
The excellent reader OCR process is another just feature that is available in the documents that will be best for identification of figuring the text though.
Download: Link
4. FreeOCR
Free OCR is the best one for opting this prevalent one for recognition of the OCR app for sure, specially made for Windows though. It has also got Google's Optical Recognition, which is the best feature within the free OCR software though. This particular feature is also known as the Tesseract.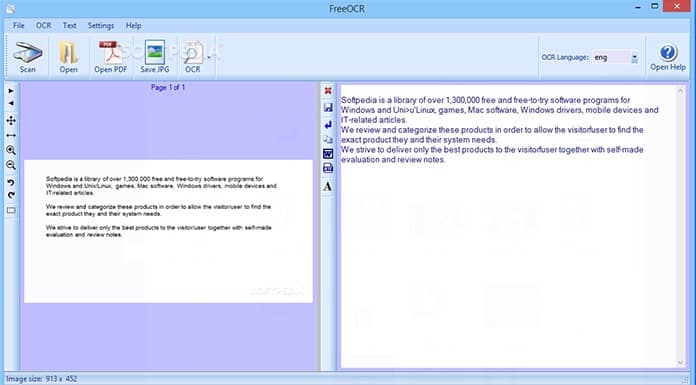 The UI feature is perfect and makes the best sense of using the app or the software for sure. Also, you can also get the panes into divisions which are especially for Input and Output images as well.
You can also use it to upload the PDF, or even you can continue to opt for converting the picture as well. You can also use for multiple batch processes too which would be great for saving the papers to scanned documents.
There are many such controls and features apart from these particularly mentioned ones as well. It is very much fast and secure to use, though.
Download: Link
5. Photo Scan
Photo Scan is another such free OCR software for pdf that is perfect and pretty much beneficial for scanning and printing texts as well. The OCR text scanner for PC is the best feature and the characteristics that would be perfect for scanning all the documents as well.
Photo scan has also got a whole suite of file and scanning management for sure. The OCR conversion would be particularly comfortable and straightforward for converting the documents too. Multiple export choices, bulk conversion, and cloud services are available too.
Download: Link
6. Boxoft Free OCR
Boxoft Free OCR is a free and effective tool to convert images into text. Boxoft is the best choice for scanning and extracting text from multiple pages. It has a very convenient interface, which makes it very easy to use even for those who are inexperienced.
Boxoft provides several features that make it stand out from its competitors. For example, it has a powerful optical character recognition engine and the ability to extract text from multiple pages in one go, which reduces the time and effort required by copywriters.
With Boxoft Free OCR, users can do the following:
Download: Link
Does Windows 10 have OCR software?
Yes, the Windows 10 API has native OCR support so that it can be used by all Windows 10 apps, like the Photo Scan app
Does Word have OCR?
Yes, Microsoft Word has OCR support integrated with its printing feature. If you have issues with Word, make sure to check out our quick fixes.
Is OCR software accurate?
OCR software isn't 100% accurate, but you can get accuracy up to 80-90%.
Which is the Best OCR Software?
So, as you know, now we have got the best free OCR software 2023 that is special and particular for Windows 10 and other Windows versions as well. You can make use of this software mentioned above and tools which is perfect and excellent for using though.
If you have any suggestions, then feel free to share them with us.