There are loads of software available in the market. And yes, we all use software and applications that would be useful for our daily technical tasks.
So, whenever it comes to using the software for Windows, you have to choose and pick the right software. And of course, it has to be pretty suitable according to the requirements and the objective of using the software for sure.
Well, when the discussion is about the free file sync software for Windows, you have to consider almost everything. It has to have a lot of features that would be quite suitable for your syncing needs in your Windows system.
Features also include copying the data and backing up the data from the current location to another. However, syncing generally means copying data to the same space or location, whereas backups usually are not done.
Or, stored in the same location or the operation can be manual too. However, the features of such file-syncing software keep going and you have to be very sure when you are choosing one for your requirements.
What is File Sync?
File synchronization is the process to keep your important data in different locations for safety purpose. You can use different physical drives to do this task or use online cloud storage for the same.
The offline and online sync process needs software to do a regular backup of your files. Most companies or professionals do file sync to keep their data safe. If anything happens to the original data, they can restore that data from the remote location.
Best File Sync Software for Windows 2023
Well, as you know you have to choose the best file sync software free for Windows that should be best at a price. It should quite beneficial and has various other features apart from the file sync feature and characteristics.
So, to help you better here we have chosen and handpicked the best and top trending file sync software for Windows that you must choose to use within your computer system.
So, here we have mentioned and listed down the best file sync software free for your Windows system.
1. Create Synchronicity
The first in the list is the create synchronicity that is quite light-weighted and is the most portable one for your Windows system. This is the best file sync software 2023 and does help in syncing and backing up the data from one location to another. Or, probably in the same location too.
However, choosing the location can be even done manually, though. You can immediately begin with the file synchronizing process after you have unpacked the software with the program files. However, the software does not demand any kind of installation within the Windows system.
You can run the software and keep going with the syncing process. You can also run the software pretty manually, once it is on your Windows system.
Using this best folder sync software is quite easy and simple too so you need any kind of specialized knowledge to use the software.
Download: Link
2. Free File Sync
Another popular best file sync software 2023 that is trending in our list is Free File Sync. This is the preferred free open source software that can be easily run on the Windows platform. And yes, it pretty much helps to synchronize the files. You can even copy the files and data from one location to your required location though.
However, you can use this software on Windows, Mac OS, and Linux too. The best feature of this software is that it saves a lot of time. You don't have to worry about the installation of the software, setup, or running of the application.
You can even have the visuals of the syncing process on your system when the software is working for you.
However, there are many other features of this particular software, and even top tech junkies and experts are preferring this best folder sync software to backup. You can use this software for personal, business, and commercial purposes too.
Download: Link
3. SyncBackFree
Yes, another most trending one and the best file sync software for Windows 10 in the list is SyncBackFree. It helps in various syncing and backing up features for sure. This is also known as the best Windows backup and syncing software that is still on top in 2023.
It comes with a variety of such features and benefits for sure, at the most minimal cost and price though. This software is available for free and can be used for personal, commercial, and other business purposes too, even educational purposes too.
Also, you will see no ads in this particular software, so using the software is just pretty.
Download: Link
4. DirSync Pro
DirSync Pro is another open-sourced file sync software for Windows 10 that is licensed for sure. Of course, this is a free platform that can be used for various purposes, including personal and educational uses as well.
The software has also got play and pause. You can also limit the speed of the software when it's syncing the programs and files in your Windows system. It has got high performance and is manageable too. It is quite faster as compared to other similar software.
Download: Link
5. Paragon Backup & Recovery
Paragon Backup & Recovery is the best auto file sync software free, which is a powerful one can use for free. Of course, it is very powerful because it has got several required and advanced features when compared with other popular free file sync software in the market.
You can take the whole control of the PC's security and safety for sure. It has got the best disk backup feature that saves all the disk data and information. However, it is also known as the best that is available in 2023.
Download: Link
6. Allway Sync
Allway Sync is another best syncing software to use. And yes, it can automatically find out the folders which would be deleted in the Windows system. Hence, this proves that using the software is pretty straightforward and simple.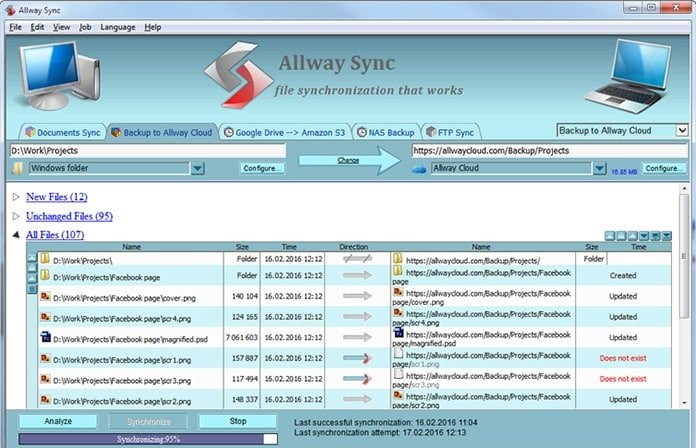 Also, you can sync the large folders too and can use the software even on tablets, desktops, USB drivers, and other such devices too including external ones. If you want this auto file sync software free for personal use, then you can also get it for free too.
Download: Link
7. GoodSync
GoodSync is an automated, powerful, and easy-to-use backup tool that enables you to synchronize files and folders between any of your computers, including a PC workstation, a notebook, a tablet, or a server. It can be downloaded on Windows, Mac OSX, and Linux.
I'm going to talk about the latest version of GoodSync, which is 3.1.6, with this introduction because it is the latest one available on the website. The GoodSync 3.1.6 has been released on March 7th, 2019 with some improvements in the UI and sync performance.
The new features are:
A new toolbar at top of toolbar for more options (Previously they were all hidden).
New UI for file system synchronization (Top Right Corner).
Sync status indication everywhere in UI so you know what folder or files are syncing or not syncing.
Download: Link
Is Microsoft Sync free?
Yes, Microsoft Sync Framework is free on Windows and Windows Mobile devices. However, support for other platforms is available through commercial licensing and porting kits.
Does Windows 10 have built-in file sync?
Yes, Windows 10 have a built-in file sync. We can say, Windows 10 are built in a tool called Sync Center, which makes things go much easier. That's because there are no server settings to worry about, and people can sync files by themselves.
Which is the Best File Sync Software?
So, here you have got all the best picks of file sync software for Windows 2023 in the market. Just get the best one as per your needs and start using it!