We have landed in 2023, the technology has evolved, and if you are still using the same old browsers to download files from, then no wonder, you will soon go back to the stone age too.
Downloading files from browsers have always been the clumsiest task and obviously more of a broken task as well. However, in the whole process of downloading such files, it consumes a whole lot of time, and it is infuriating too.
The download speed is not much expected, and it even breaks the process sometimes. Hence, here comes the free download manager for Internet into the picture, which makes the entire downloading process much easier and efficient.
If you know, there are a variety of free download managers downloads available already, but choosing the right one can help you to a certain level, but how to pick the best one that will be helpful and will work the best?
To help you with the same, here we have mentioned a few popular download manager software and applications for your Windows device.
Before we proceed with the trending download managers available online, let us get some idea about these free download manager in Chrome which will ease up your confusion over getting the right one for your system
Why Should You Use a Download Manager?
Well, the download manager, the type itself, states its primary purpose of existence. In simple words, such software truly helps in downloading the files, including images, videos, music files, GIFs, and a lot of different other varieties of files to download in the Windows system.
This also includes the download of movies and huge games available online. However, there are few more benefits of using such an application on your Windows device.
The best download manager for PC facilitates in getting and downloading different types of files from the Internet. The entire process of downloading is simply automatic as it will disconnect the process or end the task after the download is finished.
If you have a good and stable Internet connection, then even the broken downloads will resume the download automatically without the human touch.
Such software are easy to use, as it does not actually demand any specific knowledge overall. Certain features that highlight download managers are, traffic shaping, managing the downloads, scheduling the downloads, and cataloguing too.
The Internet is all filled with a varied number of high quality and free download managers for YouTube that are available free of cost. Check out the extremely popular download managers that are in trend and are available for free.
Best Download Manager for PC 2023
Here we have mentioned all the right, and the best download managers for Windows 10, and you can simply choose to download the most suitable one for your tasks accordingly. Check it out-
1. Internet Download Manager
Needless to say, many of us are already using this free download manager Internet in their system. Internet download manager helps in downloading different types of files, leaving no biased downloads in the process.
Internet Download Manager still considers as the best software to increase the download speed. The accuracy with the download links that IDM provides is still to the mark.
PROS
1. Fast Parallel Downloading
2. Compatible with almost all websites
3. Supports VPNs & FTP/HTTPS
CONS
1. After 30 days of trial, charges $24.95 for lifetime usage
Download: Link
2. JDownloader
Another popular and free download manager download in your PC right away. You can simply set up more than 300 plugins that will help you to manage your downloads accordingly.
The start and stop of the downloads are quite automatic and does not require any manual efforts. When it comes to free software to increase the download speed, no one can match JDownloader.
PROS
1. Completely free without ads
2. Parallel downloading support
3. Supports popular video hosting sites
CONS
1. No modern User Interface
Download: Link
3. Ninja Download Manager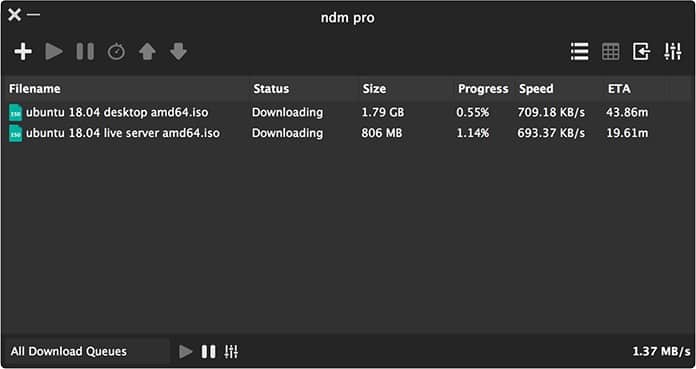 Looking for some action-filled free download manager in Chrome? Here we go with Ninja Download manager! The very famous and personal favorite application of experts around the globe.
The application looks quite modern and in-trend, and there are chances that the software might win an award for its smooth dashboard.
PROS
1. Modern User Interface
2. Multiple Parallel files downloading
3. Schedule downloading
CONS
1. Doesn't support non-popular websites
Download: Link
4. Free Download Manager
Free Download Manager is also known as FDM in short terms and is very popular and is listed in the top ten. FDM is an open-source free download manager for YouTube, which makes the download pretty quickly. It helps in fast downloads with different downloading parts separately.
PROS
1. Free to use
2. Beautiful User Interface
3. Support Torrent Downloads
CONS
1. The download speed is a little bit slow
Download: Link
5. Internet Download Accelerator
Also known as IDA, which helps in solving common problems such as usage of browsers, continuing broken downloads, and download speeds. It also helps in resuming the downloads from different servers such as FTP, HTTP, and HTTPS.
PROS
1. Compatible with all modern browsers
2. Easy to manage files
3. Resume broken downloads
CONS
1. Limited multi-threading capabilities
Download: Link
6. EagleGet
It is also the best download manager for PC, which can be simply installed in chrome, firefox, opera, and IE as well. This also gives support to various supports and the protocols.
EagleGet also uses advanced technology that will speed-up connections that will speed connections on the whole.
PROS
1. Super Fast downloading
2. Supports multiple downloads
3. Built-in malware checker
CONS
1. Free but with ads
Download: Link
7. Download Accelerator Plus
It has got the free version and the paid version both. However, this best download manager for Windows 10 with the premium version as well. You can also lookup for a variety of different features in the software or applications.
The free version has also got the DAP privacy protection and also includes the line checker as well.
PROS
1. Supports multiple downloading
2. Compatible with a lot of the popular browsers
3. FTP explorer
CONS
1. Free but with ads
2. Limited multi-threading
3. No refresh links support
Download: Link
8. uGet
It is another popular open-source download manager for PC, especially for all the Windows systems. It highlights the feature which helps in download various connections and downloads at the same time.
uGet also increases the download speeds, batch download with file scheduling.
PROS
1. Lightweight and easy to use
2. Beautiful dark mode
3. Multiple downloading with file queuing
CONS
1. Not easy to configure
Download: Link
9. Xtreme Download Manager
It is also the oldest and the best download manager for PC free that is available for download featuring, the speediest downloads of video and other media files on the whole. It also supports different media platforms too.
PROS
1. Supports most popular sites
2. Playlist downloads
3. Resume download from expired links
CONS
1. Large in size
2. User Interface can be improved
Download: Link
10. Orbit Downloader
Orbit downloader is much of a smart and modern download manager that makes all the downloading pretty easy and simple. It will also work on various browsers as an extension for sure. You can also get help for identifying the right downloading links on the whole.
PROS
1. Fast social media file download
2. File management
3. Supports anti-leeching sites
CONS
1. Bundled with Open Candy
Download: Link
Which is the Best Free Download Manager?
Hence, here we have got the best download managers for PC 2023 that is perfect for downloading all types and kinds of files required. However, you can simply choose any of the managers mentioned above for your Windows system.