How to create an avatar? Social media is now such a big part of our daily lives. Most people can't go on without it because it's often used as a primary communication tool for family, work, and friends. The downside is that their privacy gets compromised most of the time. That's why we have avatars that provide the privacy many people need to protect themselves from unwanted attention. Avatars are customizable graphic art that people can use in place of their real photos on the internet.
If you're not familiar with making avatars, this guide is for you. Here's a list of different apps and websites you can utilize to create a free avatar and easy steps to use them.
Benefits of Making an Avatar for Yourself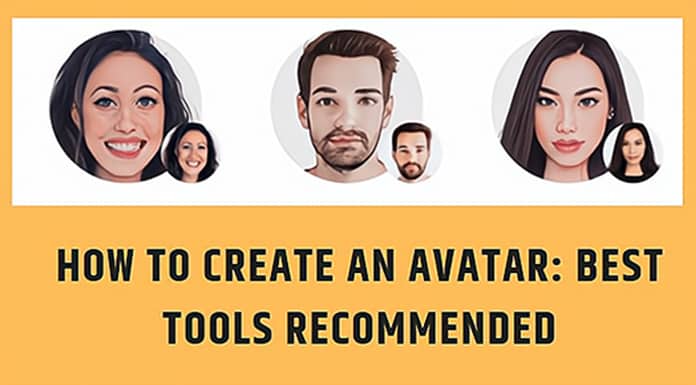 These are the benefits of creating an avatar for yourself.
1. Self-expression
Avatars usually reflect the personality of the people that use them. They are easily customized to fit the character of their users.
2. Makes People More Approachable
Sometimes using photos can be intimidating; many people feel vulnerable to the judgments of their peers, and it makes them not want to use real photos. Avatars provide the anonymity much needed.
3. They're Safe and Fun to Use
They are the safest way to present yourself on the internet, especially for children. They can choose fun animated or still avatars based on their favorite characters while their identities are protected from possible predators.
How to Make an Avatar with Imagetocartoon?
Imagetocartoon is a free online app to make cartoon avatars. It offers multiple cartoon filters and templates that will be applied to your avatars. The uniqueness of this program is that it can apply the different dress, actions, and backgrounds based on the character's gender recognition. To create cartoon avatars with imagetocartoon, follow the steps here.
Step 1: Open any of your browsers and visit imagetocartoon.com.
Step 2: As long as you come to the right page, you will see a board where you can upload a photo.
Step 3: Choose a real face photo and upload it to the platform. Then this application will turn your images into cartoon effects automatically.
Step 4: After 10~15 seconds, you will get 19 cartoon avatars with different styles. Preview the results and choose your favorite avatars to download.
How to Make an Avatar with Photoshop
Photoshop is a tool that allows you to create images of your own. it's a great tool for creating avatars, because you can make them look exactly how you want them to. You can customize an avatar more easily and make it as detailed as possible.
To make an avatar with Photoshop, you should do the things below:
Step 1: Launch the Photoshop app and create a new file. Set your document's dimensions to 50 pixels wide by 50 pixels high in the New Document dialog box. Set the Color Space to RGB and the Resolution to 72. Click OK when you're finished.
Step 2: Click on Choose File > Open, then browse for the photo you want to use as your avatar. This can be a photograph, clip art, a cartoon, etc. We'll drag this image into the avatar file and scale it down.
Step 3: From the Toolbox, choose the Move tool and move your picture into the avatar file. If the image is too big, scale it down. To resize it to fit, go to Edit > Free Transform.
Step 4: Save your work, and it's ready to be used!
How to Make an Avatar with Adobe Express
Adobe Express is a free app that lets you create your own unique avatar. It gives you access to thousands of customizable items, including clothes, hairstyles, and accessories. Adobe Express has several features that make it easy for anyone to create a high-quality avatar in just minutes. Here we'll walk you through the process of making an avatar with Adobe Express.
1. Find Inspiration
Adobe Express will give you many templates designed by professionals, so you never have to start from scratch. To uncover new ideas, search by platform, theme, mood, or color; after you've found a graphic to start with, tap or click to open the document in the editor.
2. Customize it
Customize your avatar templates in a variety of ways. Spend as much or as little time as you wish to personalize the graphic. If you have a premium subscription, you can use your brand logo, fonts, and custom colors.
3. Style it up
You can easily add more flair and individuality to your work with our original design elements. Add animated stickers from GIPHY or animate text for short-form graphic videos in one tap.
4. Scale it
You don't need to memorize the dimensions for each platform. Once you've found a design you like, use the simple, auto-resizing feature to adjust it for any print or social network effortlessly. Duplicate the file, resize it, and choose the platform for which you want it to be adapted, and the AI will handle the rest.
5. Save it
Once you've finished your design, click the publish button to share it. Adobe Express keeps your results, allowing you to return to your project at any time if you need to make changes.
How to Make an Avatar with Facebook App
Facebook APP is another application that can be used to make your avatar. You can make a good picture of yourself for your profile. You can also make an avatar for your business or brand. There are steps when you use Facebook APP to make an avatar.
Go to the AvatarMaker website and select the gender of your avatar
Customize features from the face, hair, clothes, background
You can move your avatar around to your liking
Click "Download" to save your work
How to Make an Avatar with Avataaars Generator
The last app to make an avatar in today's article is called Avataaars Generator. It is a free online tool that allows you to create your own personalized avatar. You can choose from a range of different options to create the perfect avatar for your website or social media profile.
How to create an avatar with it? It is easy!
Go to the Avataaaras Generator website
Choose which background you want to use
Customize your avatar's face, skin, hair, and accessories.
What Can an Avatar be Used For?
An avatar can represent someone on so many platforms like social media sites, online classes, online gaming, and online meetings for work, to name a few. It is an essential part of the internet community as it's widely used on chat boards, instant messaging, and more.
Conclusion
It's a very simple way for us to get on board with the idea of avatar-based communication. We can draw a picture of themselves, or they can take a picture of themselves and then draw on top of it. So there you go!
You've got so many apps and websites to choose from to make your avatar. Whether you choose to make an avatar with imagetocartoon.com or other recommended tools are okay. The tools that suit you are the best. All you have to do now and be creative and stay safe on the internet.