We often face file deletion issues in our personal computers or laptop. Our Windows 10 features some bugs and troubles when we are into some operational task or action on our computer.
The errors sometimes can be the deletion of files. It is the most common error in any Windows operating system. Well, here we are talking about the force delete folder in Windows 10.
If you are unable to delete the folders and files which are already undeletable, locked or kind of ghost files, there are various ways to delete those corrupt files. Some of the methods are written below.
Force Delete File or Folder in Windows 10
There are a lot of ways to force delete files on Windows 10 computers. Here I have shared all the possible ways to perform the forcefully file deletion on your system. Let's check them out.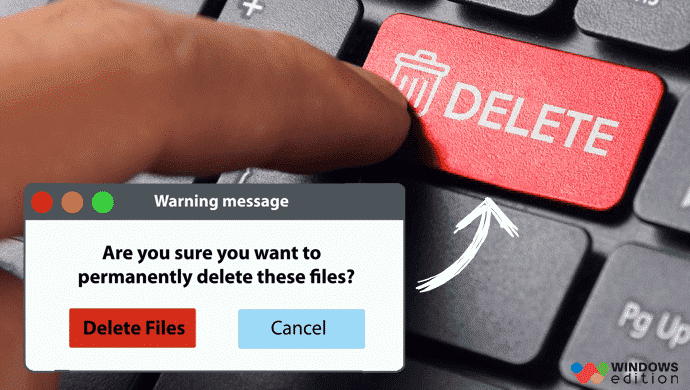 1. Try Task Killing
The Windows legacy sure has some cons to it, but it also has some pros attached to it. One of the advantages of the Windows operating system is the Windows task manager.
Task manager not only helps you to run tasks, services, and other apps on your computer, but it also has a feature of killing tasks that are running in the background.
With this task manager method, you can easily force delete a file in Windows 10. You just need to look at the program in which the file is opened. If you forcefully kill that process, then you can easily delete that file.
2. Reboot Your Computer
Windows 10 is sometimes very unstable. So, at that moment when you are unable to delete the files and folders on your computer, you can opt for this one such an easy method.
Restarting your computer, whenever our PC lags or faces not responding issues, what do we do? We just try to restart it. It works! It helps you to delete undeletable files and folders.
3. Check the Antivirus
Anti-virus is a necessity in every computer. The antivirus software has many other tools and useful features which helps in protecting the files. Malicious applications and users will not be able to delete your files.
It helps you in preventing the deletion of certain files. If you are facing trouble in deleting your files, then you need to check your antivirus once. Even this kind of software causes troubles and prevents you from deleting files and folders.
4. Force Delete File and Folder with CMD
If you face errors or issues when deleting some files and folders, then you may try using the command prompt. You can force delete a file or a folder with CMD. It is quite simple and easy too.
Open Command Prompt on your computer by searching CMD on the Start Menu. After that navigate to the file location where you want to delete something.
DEL /F /Q /A file.txt

 (

for file

)


RD /S /Q FolderName

 (

for folder

)

Follow the above commands in the Command prompt to delete your desired files and folders. There are two commands; one for file and another one is for the folder.
5. Try Changing the Ownership
You might have come across some issues such as no access or permission to delete such files or folders. You need to be able to delete the file and folder when you have access or permission to such documents.
At that moment, you should try changing the ownership of the file or folder and then try deleting it again. In order to have a full permission and gain complete control over it, you need to change the ownership or the owner's name. This would be helpful!
6. Enable Administrator Account
If you don't enable the administrator account, you may face issues with the force delete a file in Windows 10. You may need to check the administrator account if you are unable to delete some folders or files.
You can yet, remove those files from your system using the administrator account. The hidden administrator account can be used to fi various types of errors.
7. Force Delete Files Using Software
Even some software can delete your files and folders. This software can help you to delete the files and folders without causing any trouble to your task or the operating system.
Some software that will support your deletion task is Lockhunter, CCleaner, Malwarebytes Files Assassin, Iobit Unlocker and a lot more.
The most recommended tool would be CCleaner. You can simply force delete folder using the software. Try them, it works!
8. Remove the AMD Uninstall Utility
Some third-party tools and applications may cause the trouble of deletion of files and folders. If you are unable to delete some files and folders then you may want to check and verify your pc if it has any kind of third-party software which is causing you to delete the files and folders from your computer system.
AMD utility is the main reason sometimes that causes any trouble you from deleting the files and folders. At that point, you would need to uninstall the AMD utility and restart it once again.
9. Try Microsoft Troubleshooter
Some glitches and issues may appear and stop you from deleting certain files and documents. These glitches can cause you more troubles and you may not be able to delete the corrupt files and documents at that moment.
You may wonder how to delete or remove the trouble-causing files.
If you are unable to delete these files and documents from your Personal computer, then you might want to try and run the Microsoft troubleshooter tool. This tool will, fortunately, help you with deleting these files and error-caused files from your personal system or laptop.
10. Try a Safe Mode
We generally go safely when we have suspected any issue or error in the system. Some files may act very rudely when it comes to the deletion of files. At that point, you might want to use a safe mode and try the deletion process of certain files and folders.
Safe mode is a special category wherein you can easily run the task with the original settings and the troubleshooter.
After you have used the safe mode and tried deleting the corrupted files and documents, you have to restart the system or shut down for a while for the settings and the changes to get applied on it. Safe mode generally works on various other issues. It will work on this error too.
Why Force Delete Files or Folders in Windows 10 is Necessary?
Force Delete is really very important. We generally force ourselves to optimize the storage space of computers and other media storage devices
What does the rm command do?
The rm command is used to delete files. … rm -r will recursively delete a directory and all its contents (normally rm will not delete directories, while rmdir will only delete empty directories).
How do I force delete a folder?
You can use the del command in CMD to force delete a folder in Windows 10. The detailed instructions for CMD delete folder are included in this tutorial.
Conclusion
The above-mentioned errors are very common. You can apply these solutions to force delete files or folders in Windows 10. You don't have to panic when you face such situations or errors with your files and folders.
It can sometimes be a virus error too. Just use the above-mentioned methods and save your system from malware.