Using different themes for our Windows 10 not only change the desktop background of our PC but refreshen up our mood as well. It seems to bore to get stick with one of the operating system's stock images. So to enhance the visuality of your PC, it is better to choose a suitable theme for your device. Best Windows 10 Themes provide your desktop with a pretty incredible makeover.
If you are looking for a nostalgic them that can take you back 100 of years or are looking for an edgy theme from a designer, we are providing you here some of the best Windows 10 Themes free download. Themes not only have changed the customization look but also have created a new interface for the users as well.
As we all know that the Window theme is a presentation package that includes a list of different wallpapers well embedded inside a file along with supporting sound effects and screensavers. Selecting themes for your Windows 10 change the graphical appearance details of your device.
What is a Theme in Windows 10?
Microsoft has recently launched different desktop themes for Windows 10. These themes are readily available at a single click only. Stardock's Window Blinds software is one of the best recommendations for Windows 10.
This software comes up in a 30-day free trial pack for which you have to pay $10 each month. This beautiful theme has enabled the users to install custom themes as well it means that you can now easily set up your desktop background as per your expectations without having any issue.
Themes are a kind of skin to your desktop that enhances the visibility of your screen. Best Windows 10 themes download usually come up an option of easy customization, and hence you can change your background picture, menu settings and coordinating menu colors along with associated sounds as well.
Difference between Windows Themes & Windows Skin
As we have mentioned you earlier that the Windows themes are just like a computer skin that improves the visibility of your computer screen but still there is a very thin difference between the two that keeps the two apart.
Generally, the themes provided by Microsoft are termed as Theme here but if we use any third party options to enhance the look of your Windows 10 screen, then it is termed as Windows Skin. In short, we can also say that the third party themes for your Windows are generally termed as Windows skin.
Why Should you use Themes on Windows 10?
It is one of the most obvious and mostly asked questions among the Windows users. You might have seen a lot of people keeping on the same by default desktop background all the time. Doesn't it look so annoying to stay on the same for a more extended period? Using themes on Windows 10 helps you in improving the visibility of your computer screen.
How to Install Custom Themes on Windows 10
Installing custom themes on Windows 10 is just a few step process that makes your PC looks more appealing and beautiful. If you are interested in installing custom themes on Windows 10, follow the procedure given below: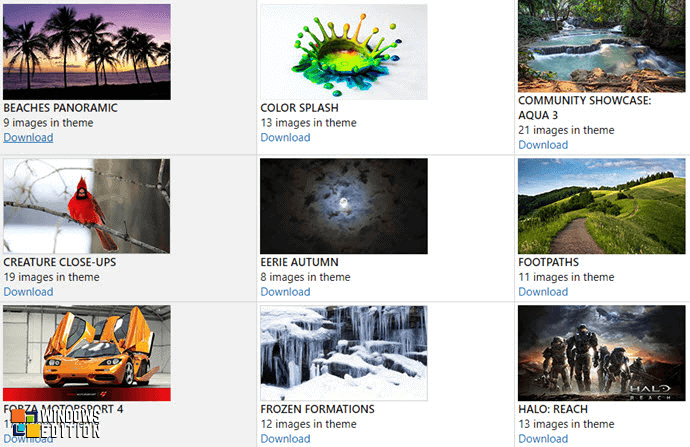 Go to the official website of Microsoft and search for your desired Windows 10 theme or scroll down below for our collection.
Once done, click on the download option to continue with the installation process.
It will take a few seconds to complete the downloading process, so wait patiently.
On the successful downloading of your preferred theme, make a double click on the downloaded ".themepack" file. The above process will add the downloaded theme file to your theme library.
Once done, apply it immediately, to enjoy the new background.
If you are interested in customizing your theme, go to the option of Personalization Menu and make a right-click on the space on the desktop background.
Once done, click "Personalize", that's it.
Best Windows 10 Themes Free Download 2021
Microsoft recently has launched new best themes for Windows 10 PC that has made it very easy to make your desktop screen looks more appealing and beautiful. We are here with one of the best Windows 10 themes free download, have a glance.
Best Official Windows 10 Themes
Windows XP: It is one of the most common and most nostalgic themes being loved and used universally. This beautiful theme is readily available in Classic Shell embedded with all the required customization tools for Windows 10. [link]
Taiwan Culture Sketches: This official Windows 10 theme is quite interesting as it takes you on the tour of the high and glorified culture of Taiwan along with the collection of fantastic wallpaper images. [link]
Penumbra: It is not a Microsoft theme but still is quite interesting as it is a dark theme that makes your system more pleasurable at night. [link]
Seda: It is another dark theme with greys sprucing up an interface that offers a unique grace to your desktop. [link]
Arc: This official Windows 10 theme comes up in several variations of black and white that makes it more influencing. [link]
Best Lamborghini Themes for Windows 10
Automobili Lamborghini is one of the most famous Italian brand and manufacturers that primarily deal with luxury supercars, sports cars and SUVs. Due to its unusual and extraordinary features, it has become one of the most loved vehicles worldwide. Microsoft also has launched Lamborghini themes for Windows with different wallpaper pictures covering the whole car, engine, wheels and other parts of the rid with unusual backgrounds.
The theme pack primarily consists of several of HD Lamborghini wallpapers in the form of slideshows that gets continuously changing after every 30 minutes. It means that you now don't need to change your wallpaper manually. Just enjoy the high-resolution wallpapers with 1920*1080 picture resolution and more. [link]
Best Looking Windows 10 Themes
Aero Glass: It is one of the finest and best looking Windows 10 themes that offers an aero style glassy transparent interface to your Menu. [link]
Vanilla: It is one of the most beautiful, bright and straightforward them with blue sky and clouds that looks amazing. [link]
Silk: It is another one of the most beautiful themes for your Windows 10 computer that convert your desktop to an attractive notebook and make it look more colorful and appealing. One of the best parts of this theme is that it offers you the facility of customizing its colors as per your desire and also enables you to arrange your windows and opened folders in a well-organized manner. [link]
FootPaths Theme: It is another beautiful theme in the list that is being loved and preferred by most of the nature lovers. This theme is a perfect combination of wallpaper pictures with country lanes, wooden stairs, forest trails, and other beautiful scenic paths having a capability of freezing your eyes over it for some time. [link]
Best Technology Themes for Windows 10
If you are looking for one of the best technology themes for your Windows 10 then your search ends up here. Microsoft has recently launched different technology themes for your Windows 10 that will take you on the tour of advancing world.
Ubuntu Skin Pack: It is one of the coolest themes that are quite efficient in transforming your Windows user interface to the Ubuntu operating system. This theme will refresh up your Windows interface with the help of original customizable colour themes, keyboard shortcuts, and mouse gestures as well. [link]
Apple: It is one of the other best Windows 10 theme 2021 with the iconic bitten apple logo that brings you several artistic variations with high resolution. [link]
Mac OS X EI Capitan: As the name indicates this beautiful theme makes your Windows 10 screen looks like Mac OS X. [link]
Best Romantic Themes for Windows 10
Next in the series of best Windows 10 Themes 2021 are romantic themes that will make you feel like more special, more appealing, love and honesty. If you are in love with someone or looking for a partner that will fill your life with love, it is one of the perfect selection that will take you on the tour of colours and love.
This beautiful theme for Windows 10 includes a wide range of colours that will appreciate the idea and its name as well. Moreover, the wallpaper pictures included in the theme pack are also mind-blowing embedded with different colours and schemes. Just choose on your desired photos from the various ones and make it your wallpaper now. [link 1] [link 2]
Best Simple Windows 10 Themes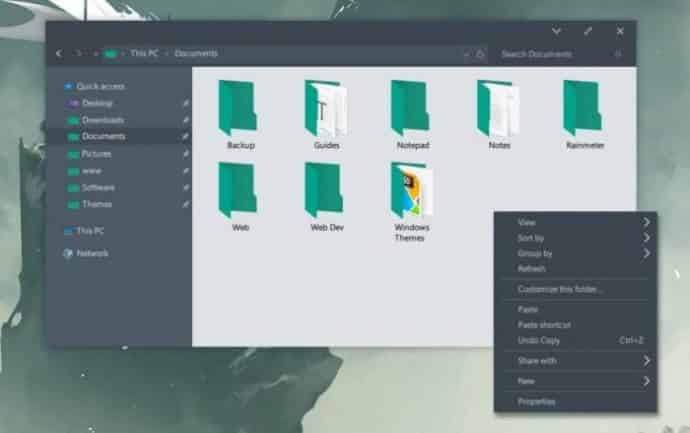 Simplicity is one of the things that never end up. Unique and straightforward themes are one of the most preferred themes that signify the peace of mind.
Morning: It is one of the most preferred Windows 10 themes by nature-lovers. The theme includes a long list of different wallpaper images including pure and straightforward nature's love through birds, insects, and river banks, plants and meadows as well. [link]
Beach Sunset: It is another beautiful natural and more uncomplicated theme that includes about 15 wallpapers of beautiful beaches and sunsets. [link]
Hope you like the collection of best Windows 10 themes 2021. We always try to bring for you the best themes and skins for your desktop. So, don't forget to bookmark this page for future reference. If we missed and the theme of your choice, then you can tell us by using the below comment box.